I made this 9-tree ginkgo forest in May.
And I made a video of the work if you're interested:
I am in love with Ginkgo Biloba as a unique species, they are so cool! I am on the lookout for some of the small-leaf cultivars (like Munchkin, Chase Manhattan, Fan Dancer). Not easy to find here in Spain.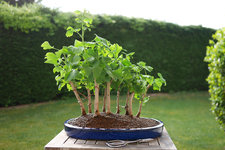 Also I learnt that Ginkgos are on the world wildlife list of endangered species, and it's not because they are rare.. it's because no one wants the female trees because of their smell.