Never bought a pot before but now I want one and I kinda had an idea for a round pot, normal in height to diameter ratio, diameter 12 - 15cm, glazed, probably the edge convex in profile, if you know what I mean? And light-ish green color like this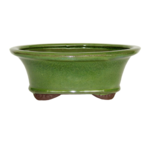 But this one is curved towards the inside, I want the opposite of that, if curved at all.
Anyway, I couldnt find what I wanted online so far.
But I also welcome alternative recommendations