Messages

3,886
Reaction score

7,725
Location
USDA Zone

11
Huh, I thought a lot of people in Southern California visited this year bonsai convention but only IanB posted few pictures in other post! Let me share with you displayed trees to which I took pictures yesterday. I had to take one day off to go to convention in the morning. I was very lucky to get one precious bonsai tree and one prebonsai. My time was paid off! very well
These are displayed trees.
When I just stepped into the room, the 1st tree is Shimpaku from my teacher, Mr. Richard Ota. My teacher said it was a cutting about 50 years ago.
Next to it is JBP, in memory of John Naka. It is root over rock, I think.
Then, JBP from Yamaguchi nursery
Then, Procumbens Nana juniper from Fred Miyahara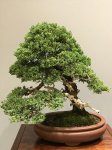 Olive sumo from June Nguy ( David Nguy's wife)
Bonhe