Celtis occidentalis
,
or the Hackberry, used to be the State Tree of Nebraska. I have no idea why it was changed. I am new to all of this, so don't take this thread as advice (unless it isn't coming from me).
It was propagated from seed last year. I bought it in a one-gallon pot with 80% pine bark.
My goal for this tree is to thicken the trunk and develop the roots by repotting it in a larger, 5-gallon Rootmaker container with a more air-retentive soil. I realize I could plant it in the ground for maximum thickening, but I simply don't want to.

Lots of roots at the bottom



Rooting very sporadic along the taproot. Nice fine roots though.



I cut the taproot, keeping the roots near the top.



This is what I cut off. I actually planted this back in a one-gallon pot with the tip of the taproot sticking out. Maybe it'll grow?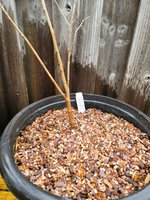 ​
I'm using a kitchen-sink blend as a substrate. I ultimately need 50+gallons of substrate to up-pot my newly acquired trees, so using up as much of the material I have recently purchased for my soil tests was beneficial. It's equal parts Sifted Pine Bark, Grit, Turface & Diatomaceous Earth (2-5mm) with a dash of Sphagnum Peat Fines. I tested the soil's mechanical properties at 29% Saturated Porosity (air-filled space), and 25% Field Capacity (water-filled space) after draining. Hopefully it will work, because conventional substrates are difficult to find. I added the fines back into the mix after sifting the

I am divided on whether to let it grow naturally or to do some trimming. I could see trimming above either of those branches to create a new leader.

I will be posting separate threads for my other species as I get them in pots this weekend.