Messages

9,100
Reaction score

12,973
Location
USDA Zone

5a
Now THIS piece, while being structurally and technically clean and solid.
Has the remnants of a glaze that didn't ...."glaze".. on the top lip. (It was a low-alumina fabrication.. intended on running.. but burned up and blew away in flaky ash in short time)
To ME, as an Artist this INSTANTLY denies expression of intent, and makes the piece of MUCH LESS worth.
Sooooo I'll auction it off, and start it real low.
It is Black, Impalpable grog Stoneware.. fired to cone 6, a 12.5-hour gas reduction fire.
My first experiment in "OVERWORKED texture"!!!
Besides that NON-glaze, I find no technical issues with this piece.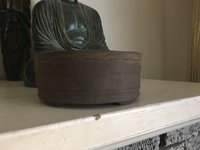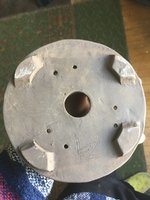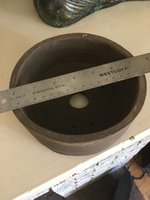 Auction will start at 20USD.. (Before shipping)
Tally taken "as of" 4/26 at 11:59 P.M.
Thank you for looking!