Messages

24
Reaction score

23
Location
USDA Zone

9
Hi everyone!
Happy New Year to you all.
I have been on the forum for a little while, picking up lots of really good information and decided I better finally introduce myself!
I have been doing bonsai for several years now, starting with mallsai and sticks in pots and trying to improve my horticultural skills first. I have loads of small trees which are growing on and a few larger ones.
Some of my trees are now getting to the stage where I have to make more complex design decisions, which I am struggling with! I will therefore be asking for advice on the forum soon. Many thanks in advance to anyone who takes the time to help.
I will include a couple of photos of my current trees - I've got various works going on at my house, so the trees are not on my usual benches but huddled out of the way. I also have a patch where I am ground growing trees.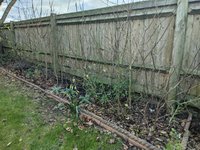 Given the situation this year I have not tried visiting my local bonsai club but hope to join if things improve in the spring.
Thanks and all the best for 2021.
George