Messages

1,087
Reaction score

458
Location
These tree are from an old olive trees field that were removed few years back and are being sold. Most are way too big for me to handle but following ones I believe are manageable except with one with a base around 50 cm which is a bit too big.bit has nice movement... I can put them in bonsai pots as they are removed from soil. Or just pick up 1-2 per week as I can pot...
Appreciate advice on my choices..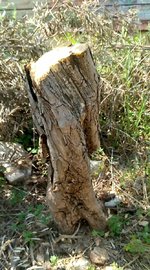 This one is mostly dead but is a beautiful piece of deadwood yet has a few suckers at the base one emerging from top of the trunk. Price is a steal, think its worth playing with it ?
And the one a bit too big but with beautiful trunk movement.
All have beautiful bark. They have been prunes recently hence the lack of too much foliage on them.
Appreciate any advice on which to get. In for taking all.
Also how much do u think I can reduce the wood at the base if too wide for a pot? Can u cut with a chainsaw to reduce even if that means very few or no roots are left? Willing to risk if chances are reasonable