Messages

532
Reaction score

969
Location
USDA Zone

8b
I live in area where lots of apple and pear farmers have their growing fields. Once in a while a field gets cleaned out to make room for new trees. A little over a month ago I went to one of those fields where all the trees where being pulled out of the ground to get put through a shredder. One of my friends was the excecutioner on duty. He told me I could get as many trees as I wanted. I went with 1....
So long story short, I cut the top off a big trunk apple tree, dug out the rest of the trunk, took it home and planted it in a big masons tub filled with molar clay pebbles.
The plan is to let it recover for a year and then attempt an air-layer where the green line is on one of pictures below and cut of the big branches so I will end up with a 15-20" stump. That stump would be carved so the tree will get some kind of
hollow trunk
. New shoots (which are already forming on the trunk) will become the future branches.
My question to the experts is:
How realistic is this? Will the air-layer work on such a big (old?) trunk?
And yes, I know it will take 200 years to get something decent
Picture 1: The apple tree field
Picture 2: The "Chosen One" already decapitated
Picture 3: The tree as it is today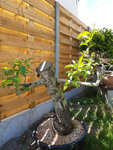 Picture 4: New buds are sprouting
Picture 5: Red Lines: Branches will get cut here later
Green line: An air-layer attempt will be done next year or so.