Messages

13
Reaction score

3
Location
USDA Zone

10a
So, Spring came early this year, and my trees started growing.
I want to train these trees not only into the traditional "Bonsai" way but rather into Niwaki trees, whose I wish to maintain in bigger sizes and in ordinary garden pots or even in the garden soil.
I don't know If I should let them grow or prune the tips off the top branches in order to balance the growth. I've already done that with the first Ash tree and a few Japanese Maples
that will appear down bellow.
The whole purpose of doing that is so the tree obtains a more triangular form and branches out a bit more, but I don't know if this early could delay or even worsen the growth of the trees, or I did just right...
Also, I already know that training young trees like these into Niwaki is basically training a bonsai, but I believe the procedures are somewhat different; For example, in Niwaki you prune a lot
more a tree, you let it grow more, and you train branches using ropes and such, and you grow them in ordinary containers, feed them with lots of fertilizer...
There's also the picture of a little mame Pinus Eldarica with a sacrificial branch which I wish to maintain small and triangular.
FRAXINUS ANGUSTIFOLIA
FRAXINUS ANGUSTIFOLIA
QUERCUS PYRENAICA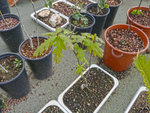 QUERCUS ROBUR
ACER PALMATUM (RIGHT ONE UNTOUCHED)
ACER PALMATUM (TOP TIPS PRUNED TO FIRST TWO-THREE PAIR OF LEAVES)
QUERCUS ROBUR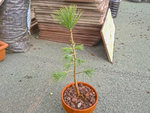 PINUS ELDARICA