Messages

2,503
Reaction score

3,627
Location
USDA Zone

6a
I've seen these in the Walmart lighting section many times and have considered them based purely on the price, but was never confident spending money on them because nowhere on the packaging was there anything at all about the light output.
Today I decided to give it a go seeing as how I need a new light for work anyway. (I am SO keeping the receipt.
)
Here's the box, and what's inside.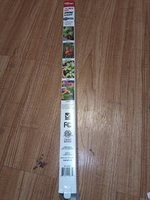 The light (happens to be
light
But seriously, I feel like it's going to break in my hand.), the power cord, wall mount brackets, and a secondary cord to link another light to it if desired. The instructions also contained no information on the light output quality.
I set up a quick test to take some measurements with my grow light app. I'm using Tent Buddy, and have had no lights reliable enough to do a full calibration.
The LEDs are arranged in alternating sets of red and blue along the length.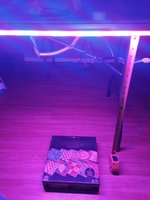 It's obviously intended to be an area light, so I measured at 24 inches distance.
The results measured at the center of the light.
Not too shabby for Walmart plastic garbage. If used with reflective walls, the readings might be better. I just wasn't going that far cheap plastic junk.
I'll set it up on my living room plants for supplemental lighting, and we'll see how long it lasts, or if the light quality degrades over time.