Messages

12
Reaction score

5
Location
USDA Zone

7a
Hey y'all, new here and pretty new to bonsai, I wanted something pretty forgiving. I'm working on starting field growing a lot of stuff (I can totally grow plants in the ground well and hopefully will get the hang of bonsai in 10 years when my material is looking good) I have been taking hundreds of cuttings of stuff I find around and plan to replace my acre of lawn with a tree farm
would love more detailed information about that, I wish there was a forum category for field development.
Anyways I also wanted to have some ficus, so I picked up the first ones I found, got 2 for $25 from home Depot, they are really making me laugh, they had reindeer moss stuffed in the top and glitter covered inspirational rocks with toothpicks stuck in them, which I stuck in some other nearby plant before I took them off the shelf lol...
I don't think they will turn into actual credible bonsai anytime soon, but I did want to have a source of cuttings for ficus so I can develop better material from them. I think they might be 2 different kinds, so hopefully someone here can identify them for me, and if you have any experience with those varieties I would love to hear about it. I have been reading Scott's posts on ficus and they are great, I really appreciate his sharing of wisdom.
here's the first one:
close up of leafs (apologies for the dripa it is raining here)
bark:
and here is the second one, a little nicer but not by much: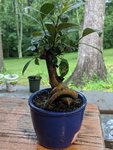 the leaf shape is definitely different and the bark seems different. They don't seem pot bound yet though there are some roots around the bottom. Anyone have advice on how to get explosive growth out of these puppies? I'm in Tennessee and it's gonna be in the 90's for the rest of summer, which I hear they like. My experience with growing other potted plants says wait a little longer till they are almost pot bound and then pot up, but bonsai folks tend to do things differently. Not sure what to think about going to totally inorganic medium, I'm a soil but through and through and do a lot of composting and mixing of my own mediums, but they're not tomatoes... But even for the summer I suspect I could get away with organic soil until fall. Heck I would even love to hear people's opinions on throwing these bad boys in the ground, probably not this year but next year for sure. When I do go to pot up or repot or whatever I will probably dig them out a little bit, the one is definitely buried too deep...