Messages

1,731
Reaction score

3,380
Location
USDA Zone

11a
This is a Crimson Bougainvillea, very old, planted at the back corner of my neighbour's office, by the sidewalk.
During the growing season it throws branches 4, 5 meters away and flowers profusely.
But this bothers some clients of this neighbour of mine, so he ordered it hacked.
So his employees have it chopped down, not once but many times during the last two years.
But...
It springs to life again, and again, and again, and now the guy is getting
really annoyed
and wants it gone for good.
Dead.
So as I like it and I respect its struggle to keep alive, I thought it could be saved and even be a nice big bonsai in the future, so I asked him to collect it, and the answer was "of course, if you pay for the new sidewalk, go ahead".
Is it worth the time, the money and the effort to have it collected?
It IS bigger than it looks, and some of the roots are growing into the walls.
If yes, how much of the roots I should keep? (it's impossible to know how healthy they are and how big they are now).
The long shot, as today.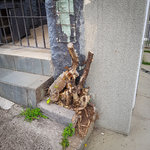 A closer look:
Sprouting 01:
Sprouting 02:
The roots:
@leatherback
any hints, since you are the one who loves big trees?