Messages

2,097
Reaction score

4,491
Location
USDA Zone

11a
No hard rules.
Just post your best tropical trees and give us the names of the species.
I will start this thread with two favorites : Jabuticaba and Pitanga.
First, the Jaboticaba (or Jabuticaba as we call it in Brazil), in a Shugo Izumi pot:
Plinia cauliflora, the Brazilian grapetree, jaboticaba or jabuticaba, is a tree in the family Myrtaceae, native to Minas Gerais, Goiás and São Paulo states in Brazil.
Related species in the genus Myrciaria, often referred to by the same common names, are native to Brazil, Argentina, Paraguay, Peru and Bolivia.
Sometimes it is known as Myrciaria cauliflora, its older name.
Then the Pitanga, Eugenia Uniflora, overpoted to thicken up, on a Sergio Onodera pot:
Eugenia uniflora, the pitanga,
Suriname
cherry, Brazilian cherry,
Cayenne
cherry, cerisier carré, monkimonki kersie or ñangapirí, is a
flowering plant
in the family
Myrtaceae
, native to tropical South America's east coast, ranging from
Suriname
,
French Guiana
to southern
Brazil
, as well as
Uruguay
and parts of
Paraguay
and
Argentina
.
It is often used in gardens as a hedge or screen.
The tree was introduced to
Bermuda
for ornamental purposes and has also been introduced to
Florida
.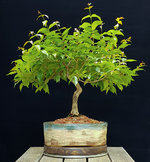 Now post yours!
Last edited: