Messages

420
Reaction score

931
Location
USDA Zone

9a
This is a Japanese white beech (
Fagus crenata)
that I picked up from a lady in Sacramento over the summer of 2019. She was reducing inventory and I purchased a JBP, a
Torulosa
and a Sierra juniper before heading out to visit a friend for the day. Not wanting to leave the trees in a hot car, I planned on going back to her house to pick them up on the way back home. When I returned, this beech caught my eye and, while it was a little out of my combined price range for the day, I went for it. Got a great deal on all four plants and when opportunity knocks...
This tree was imported from Japan in the late '90s and had been passed around a bit in the Sacramento area. There are some big scars that I have been working to close up. I have done a little bit of wiring and some basic pruning to keep the branches in check. And I've been trying to keep it alive. The Central Valley is not an ideal location for a beech as it gets way too hot in the summer. So far so good, although
shadeageddon
certainly tested me this summer and the tree limped through the final heat of 2021 with seriously sun damaged foliage. I should be OK going forward with a shade structure.
December 2019
February 2020
June 2020
January 2021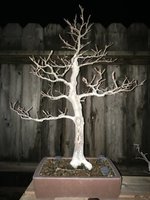 May 2021
Last edited: