Messages

628
Reaction score

795
Location
USDA Zone

7
I purchased this black pine in 2016 and took it to a group workshop. It was one of those purchases that you knew would take a lot of time and effort.
We decided to chop it down to the left main branch and build with that. The only issue was the very straight trunk emerging from the soil line.
Letting this tree run a few years did this tree good. I should have addressed the straight trunk with I had trunk chopped it. It'd take another 3 years before I approached this. However, in between that time, the tree was fed pretty heavily and was left to grow.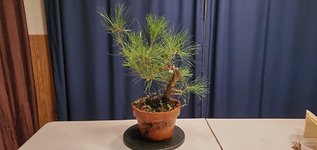 In 2019, I approached the tree with adding a slight bend in the straight trunk with the help of a rebar and wedge. You can also see an approach graft was also administered near the chop site. At this point in time, the graft has taken and was detached. It was an anticipating I wouldn't have a viable branch here so I moved a growth lower towards the outward bend
The tree took this bend well, it assumed this shape for 1.5 years before it was removed in late 2021.
The picture and the above picture were taken at the same setting. This picture shows cleaning up of needles and wiring branches into place. It wouldn't occur to me until a year later how the drop branch is entirely too straight.
Here is the tree in 2021 with candles all elongated.
This is the final product of 2021 with candles decandled with a new second flush established. The drop branch was also addressed with some movement to make it less straight and more complimentary to the trunk. I am aware I need more development for the apex, I may consider letting that run next year for a few growing seasons to thicken and create taper. Going back to the first picture and comparing it to this picture, that bark really aged quite nicely. It also probably helped it was bent heavily so that may have helped with bark fissuring. Can't wait to see it in the next few years. I'll most likely repot this next year because it was slip potted into a bigger pot and the soil is mostly all decomposed and water penetration is lacking.