Messages

1,550
Reaction score

5,251
Location
USDA Zone

8
I obtained this tree for about $10 as a rooted cutting in a 4" nursery pot. The sapling was planted in pumice and scoria. June 2014: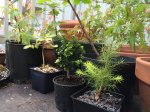 After purchase, I slip potted it into an 8" round nursery pot.
March 2015:
May 2015, showing a lack-of-water mishap: (and/or bad repotting aftercare)
2015 was an impressive growing season. January 2016:
Today, February 2017, in poor lighting after I repotted it into a 16" square grow box:
I've done wiring on primary branches only. The sacrificial growths are intentionally long and pointing up. The newest lower branches may be replacements for some of the more coarse lower branches. For now, lots of waiting and growing is in order. I'll feed heavy after the first flush hardens off. The buds are swelling.
The root mass is well formed! I like the impact collanders have on roots. I've been using pumice, lava, and diatomite gravel for soil.
Last edited: