Messages

312
Reaction score

1,673
Location
So I run a lot in my city and I scope out trees while I run. One day I saw in someone's front yard a ridiculously ramified Japanese maple stump. So I knock on their door and the lady doesn't speak English. So her daughter translates and I offer to buy the trunk for $100. They were super excited because she didn't like the maple shading her roses and kept chopping it back. That's how I came to own "Juanita"
Spring 2019
I came to find much of the structure here is dead wood
The main trunk rotted away forming an uro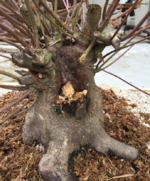 After removing the dead wood, there were 5-7 main trunks
2020
The first year I just got it into a box with field soil. But in Spring of 2020 I looked at the roots and they were awful. I considered the rootage a lost cause. and decided to ground layer it in June of 2020.
2021
It has been ground layering since June 2020. Now is the time to separate
Nice rootage!
A couple bare areas will need grafts next year
In a pot now. It's hard to visualize the strange structure of this tree in a picture. The pot is 14" across. I will make a very dense clump canopy with 5-7 trunks forming a single unified rounded canopy.