Messages

142
Reaction score

178
Location
USDA Zone

5A
Hi everyone!
Just so we are on the same page I started bonsai more seriously a year and a half ago.
My short terms objectives: Learn how to make my trees survive, provide basic care and maintenance while learning the When and Why for each species I own.
I think things are doing well, my more advanced material has gain alot of positive points (From my understanding!) and the younger material seems to be in perfect health with a lot of vigor and possibilities.
Today was a new "test" for me.
I went alone to a bonsai nursery to choose my own material. Thanks to the owner Yves from Bonsai ENR for letting me lurking around for few hours!!
Where I live there's not much beginners! Most are advanced hobbyist or pros with 20 years of experience that are not used to give advises on new choosing material as they already know the person knows which one to choose! And they mostly work on way more advanced material!
Its time for me to fly out the nest and know why I'm choosing this material over another piece.
I wanted another Acer Palmatum (Its a classic but I fell in love with them...) I also wanted to experience with a tree that I found really interesting: a Larch.
Obviously I could not leave without a small Azalea that if I judge by the mother tree will survive with winter protection in Zone 5A!
I chosen theses trees with the best of my knowledge.
With this post I would like to tell you know why I chosen theses specific piece and I would like you guys to validate my decisions or on the other hand why the subject should have been avoided... Just to see if Im on the right path of choosing nursery material like a more advanced amateur!
First the Larch
This tree has an interesting yet classic trunk movement
Here's the reason why I chose it.
Second branch will need to be kept in proportion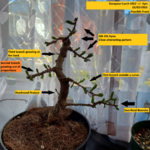 Back of the tree: You can see the buds that will form the 3rd back branche
Im a fan of maples... Probably because I come from Canada!
I own a few different variety: Bloodgood, Deshojo, Sango Kaku, Yuki Hime but I was in need of a Katsura!
First reason I choosed it the trunk movement was not bad
Chose that one for the following reasons
-Low sacrificial branch growing
Lot of options for bottom branches if I want to go that way
Possibility of first branch or a new apex, that will depend on the size of the leaf
And finally the Azalea.....
Just because I want one as they are beautiful!...
I do have a lot of reading to do but for the price this is a simple test to see if it can survive the winter in my cold layer storage.
I've read only the basics so far, and I think I will be up to the task!
Interresting trunk movement / Choosen front at this time
Wiring/Basic Pruning will be done after flowering
Thanks for your constructive comments!
Ugo