Messages

6,044
Reaction score

7,695
Location
USDA Zone

13
The most extreme example - note depth of pot and
soil mix is 9 parts inorganic to 1 part organic.
Placement - full sun
Ficus p. - side branch to 3 feet [ 92 cm ]
Gave this in x months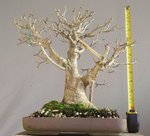 Whereas this did nothing but thicken the branch.
The Fustic [ Flaucortia [ requires a top branch to thicken the trunk ]
Better results in the ground
[ Ficus p. and Flaucortia are cousins - both have milky sap as well
Flau - is a hardwood, sap is poisonous and Ficus is a softwood ]
more later.
Good Day
Anthony