Good morning all! I have a wisteria bonsai (chinese, gonna be gorgeous and flowering either this coming year or next) that I'm training to be a semi cascade eventually. I'm brand new to bonsai, and this was actually my first tree purchase early this year! I bought it right before Texas got hit with Ice Storm Uri actually, haha, and they kept trying to deliver it to the completely iced over mailbox, which... is hilarious to me. Anyway! I had been reading and watching Herons Bonsai (love him) on how to thicken Wisteria trunks, and to train them up, as it can be a long process, and how they're quite wild during their growing period and it's important to keep them in check but also to allow them to branch so that the trunk thickens as well. My question is this:
I established a sacrificial branch on a larch as I had done so with one of my Japanese Maples-before chopping that off when I realized it was at the same height of another, eventually more appealing branch-and it has actually fattened up the base of the trunk quite nice. But, I'm now reading about how you don't want to disturb the vascular system of the tree between the leader and branches you actually want too much, and having this sacrificial branch at the base could end up doing that in the long run (as well as causing a knot, which, Wisteria are known for looking gnarly, so I'm okay with this, but wanted opinions).
TL
R should I cut this branch now to save the vascular system and potential knotting, or should I leave it and have it help to thicken it some more for another year? I know it doesn't look like much, but the tree is planted deeper than in the first attempt picture as the root ball wasn't covered as deeply, because again, I was utterly new to trees lmao.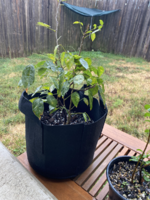 I'll attach a picture of when I first got it to show the growth in the last about... ten months or so. (please ignore my awful attempt at wiring, it was my first time)