Messages

28,274
Reaction score

38,389
Location
USDA Zone

6.2
Or Shelving my kiln!
Got some more shelves today and did a practice stack outside of the kiln.
Them new shelves kinda came with this....
Kiln sitter,(auto shut off) is broke, but seems good otherwise...
Kinda hoping it DOESN'T work so I can convert it to gas!
Unfortunately the elements are clean as hell so it'll Probly fire well.
So rather than spend $120 on new shelves to fire Shtacked FULL...
I spent $100.
With 2 low,med,high knobs, it's no computer control, but gives me a different firing schedule capability, which should give me some different glaze effect than the other, which has 5 On/Off Switches.
Besides....
You know I'm Old School...
Peep my cones! New and old.
No no....
Peep the Matches that came in the parts box!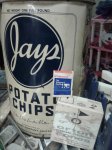 Lit my square with one!
I really really really wanna show you this pot I made for Vance...
It's running deep...
No chains, no hooks, no meat racks, no rockers...
It's ON!