Messages

12,898
Reaction score

12,440
Location
USDA Zone

5b
Starting a new thread. Just because this will let ones know...I realise I am breaking the rules. This may not be a bonsai in many eyes...and quite frankly. That's okay. I love it...and at the end of the day. That is all that matters. (Thanks to all who talked me into removing the 3/4 straight branch in the back. I feel it improved this tiny tree by leaps and bounds.)
*Edit:
Though this breaks many rules...I do have a cutting from it that I do plan on growing out and chopping and developing a proper taper and see if I can possibly make a Kojo No Mai bonsai that is more in line with the bonsai rules so to speak. Just not on this one.
So...I'm going to start fresh with a few photos. To keep a progression of sorts for this tree here for myself.
First put into the Erin Pottery crescent pot...it sits on a 3' table...for a rough idea how large this was starting out. (2015)
To my first...(cough cough) attempt at wiring it. You can see from the photo I didn't wire the entire tree. Out of frustration of the wire not holding. For I was not using the proper technique. (2015)
To still not perfect...but understanding the concept of applying wire. (2016) My goal at this time is to grow out that back branch that crosses...follow a similar line as the one in front along side it. And then bring it down a bit once reaching that branch forming a cascade.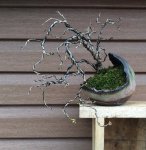 For size comparison...remember this once took up almost an entire 3' table! It's now 9" wide and 12" tall.
Last edited: