Messages

232
Reaction score

359
Location
USDA Zone

8?
This is the second tree from this thread:
https://www.bonsainut.com/threads/2-european-hornbeams-almost-flawless-yamadori-material.27054/
The tree grew pretty intensely throughout the season - many new branches, roots are sticking from the bottom of the container. Still I plan to keep it in this container for at least a year and let it grow freely (except for the things discussed below). The taper of this tree is fantastic, the nebari is almost perfect (a bit unevenly distributed but hey - this is yamadori!) and part of it is still hidden below substrate.
Here's few photos I took today with animation being done automatically by Google.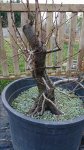 Some of the branches seem a bit too thick - so I'll probably shorten them. I'll wire the branches I want to keep. I'll probably remove those thin long roots emerging at the base of the trunk.
What I'd like to discuss is shortening the top. One reason is that the last portion of the trunk has little taper and the other is that the cut I did was not very good - it is not callousing well - probably the bark around the rim died. So one option is to carve the center wood a bit and cut the bark so it starts callousing over or the other option would be to make the big cut again a bit lower. That also present few more option: one is to do the cut the way it is now - on the same side as the big lower cut (that is callousing nicely) or do it in opposite direction. What are your opinions?