Messages

238
Reaction score

282
Location
USDA Zone

7b
Hi all,
I recently acquired a large and old Japanese Black Pine and when I received the tree in the mail the pot was completely smashed. I was able to find a temporary pot from another local bonsai enthusiast but the pot is too small I believe.
I found a few large Yixing pots for sale that I'm interested in and I wanted to get opinions on if they would work stylistically and if they seem like they would be appropriate size.
First off, Here is a picture of my tree in the current pot as well as a picture of the tree in the original pot that is now broken. The Dimensions of the Tree are 26" tall and about 24" wide on the canopy. The Base is a little over 10"
Current Pot: Outer Dimensions 16.5" X 13" X 3.75"
Original Pot: Not sure of the Dimensions exactly but I measured a piece that was 4.25" tall and the planting depth was 3.5"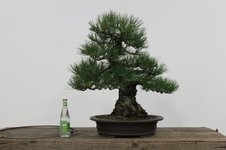 Pot Option 1: 20" X 14" X 5"
Pot Option 2: 19.5" X 15" X 5"
Pot Option 3: 18" X 14" X 5"
Pot Option 4: 19" X 14.5" X 5"
Pot Option 5: 19" x 15" x 6"
Option 6: I've considered building a wooden Box for the tree until I can find an appropriate pot for it. I've seen this done by professionals in Japan to reinvigorate trees after being exhibited or for mature black pines that are still being developed. Oshima-San from Bonsai Meijuen appears to plant large and old black pines in wooden boxes very frequently for this purpose. I feel this may be a good option since the tree is possibly stressed from the shipment. I hope some of the Black Pine experts here on the site can chime in on this. Here is an example of this type of Wooden Box
I hope I can get some good input from this poll and generate good discussion.
Thanks,
Adam