Messages

344
Reaction score

441
Location
USDA Zone

8a
In October 2017 I purchased this trident maple trunk from a local nursery. It was about 7-8 feet tall and wasn't quite ready to chop so I had to leave it at that nursery since it didn't fit in my balcony.
In March 2018, I did a light repot there at the nursery into a Sara Rayner pot which I purchased from the owner for $35 because it had a small chip. I figured if I put the chip on the back it's not even noticeable so it was a steal.
After a year of growth, I chopped it down lower in hopes of getting new buds below the first branch. At the time there was nothing useful below the branch so I didn't want to chop too low and risk losing the tree.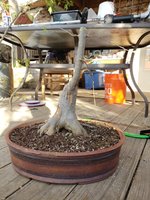 In this picture you can see the growth the upper section had since I purchased it. You can tell the difference better in person. New on left, original on right
In March 2020, I did a full bare root repot into the same pot and worked on clearing out all roots below the trunk. Unfortunately my phone died half way through and couldn't take many pictures.
Before:
Luckily my attempt at getting new buds lower paid off and I got a bud exactly where I needed it for the next trunk section.
After repot, new bud circled:
Continued in next post