Messages

88
Reaction score

103
USDA Zone

8b
Ok, I try not to post questions without doing a little research but I am getting mixed opinions through a search of the forum. Certainly the majority of what I read is to wait until spring but I really need to get rid of these huge masses of dirt and I'm chomping at the bit for something to do.
Basically I have three conifers that I would like to get out of nursery pots. The first being a Hinoki Hage cypress that appears to be grafted and in a relatively huge nursery pot, a Mugo pine in a typical sized nursery pot, and what I believe is an Itoigawa Juniper from Telperion farms that has likely been in one of their tapered pots for quite a while.
Temperatures here in southern Oregon are going to be mild for the next week or two with high pressure moving in. However our average for first day of frost can be as early as the first week of October. So maybe the risk is too high. However I was thinking that even just a little bit of reduction in the root mass or nursery dirt would be ok. Here's pics of what I'm dealing with.
I should mention that I did clean out the inner dead foliage and reduce the foliage mass on the Hinoki by about 25% a week ago. The other two I've done nothing with other than water and feed.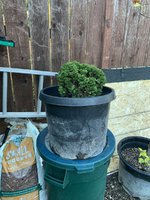 Thanks for any replies. If I need to just chill and wait until spring than I guess I can do that.