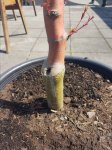 Hi there!
I just bought this awesome Japanese maple senkaki (or so the tag reads).
It has an awesome shape with good growth on the lower part of the tree.
I want to layer the trunk above the graft to produce nebari.
And at the same time, removing the not so good looking graft.
I've looked at different methods, such ring-bark, and tourniquet / ground+air layering.
It is currently early Spring in Australia, and the leaves haven't grown yet.
My approach as it stands is:
- Wait until leaves harden.
- Apply tourniquet above graft section as a ground layer.
- (How long typically does it take for roots to grow for a tree this size? = 6ft)
- Then possibly air layer one of the branches to create another tree.. Because I do want to prune the higher growth off to bonsai the base.
I am leaving all the growth as it stands to really boost trunk growth for tourniquet.
Does anyone have any suggestions?
I have posted pictures, and am happy to post more from different angles
Thank you so much in advance!