Messages

615
Reaction score

715
Location
USDA Zone

8b
I was suggested this tree by Brent from Evergreen Gardenworks when I contacted him last summer when I decided to start the hobby. I have seen a few in full size, but in the US, they tend to be smaller trees/bush size, I don't know why (but I think it is due to the climate). In the tropics and the southern hemisphere, they grow to medium size trees (around 20m tall).
From my talks with Brent, it grows quickly for a few years to around 6ft if planted on the ground, then slows down. I think this may be a dwarf cultivar but he doesn't mention anything about it on his website.
Upon receiving
They are known by "palo rojo, palo colorado, or arrayan" one of the websites mentions it as "arbol senador" but I never heard that name for it before. Anyways, below is the description from Brent site.
Luma apiculata (Peruvian Myrtle) S\PS\M\D\15ø\Ls\B Evergreen shrub. Grows quickly to 6 feet then slows down. Dark green foliage, white flowers and dark fruits, characteristics that all resemble Myrtle. Flowers from mid-summer to fall. Older plants develop beautiful smooth creamy brown trunks that should be revealed. Fairly drought resistant. Should make a wonderful bonsai since it develops a thick trunk very quickly, and withstands container culture. The Luma pictured here is our FOUR INCH POT size, or what you can expect after about two to three years from our smaller pots. It has just been pruned to reveal the interesting trunk movement attainable with this species. 2 3/4 inch pot size will usually have moving trunks, although you can specify if you prefer a straight trunk (yuck!). They are pruned down to about 8 inches and will have greater than 1/4 inch caliper. These are nice vigorous plants, very strong growing.
Let me tell you, this tree is not drought-resistant at all. I left it in the patio of the apartment I was living in while my house was built, receiving dappled sun from 3-7pm and when I got home it was crispy!
Crispy status
After repotting in March 2021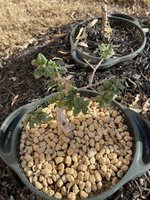 Bark detail