Messages

490
Reaction score

596
Location
USDA Zone

7a
Acquired in May. I am unsure of the cultivar, but it has beautiful small leaves and pink-red bark on young branches. The previous owner didn't know either, but did say it originally came from Brussel's.
There are a few issues with this clump that will have to be worked out over time.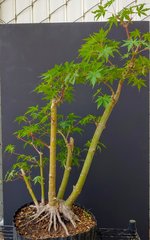 The roots are awkward and immature, although the right side has some significant melting started. Next spring I will transplant it into the ground or a grow box, on top of a board to encourage further fusing.
I like the balance being toward the right in this composition. In my mind, then, that center trunk is a few inches too tall and should be reduced at least to the next highest node in late winter. There is already a shoot there I can use to build a new apex. The other trunk chops will be cleaned up around that time.
I do not have a before pic, but this tree was quite bushy before today. I thinned it out considerably, removing crossing branches, reducing multiple shoots at the trunk to one and branches to two, and cutting off long spring growth. I am hoping for a new flush of growth, but that may have to wait for the current heatwave to end.