Messages

68
Reaction score

14
Location
Hi everyone!
Two year ago i grow a bunch of scotts pine seedlings from seed, and at the end of last year i put some movement on them. Attached is two of them for example
I'm wanting to develop these seedling as small mame sized bunjin style trees. However i'm a little unsure how to do it, so hoping someone has some light to shed.
This is what i'm aiming for (i know they are black pines)
Am I right in 1) picking out the strongest bud of the clusters leaving two weaker buds.
then 2) let these buds extend during spring and pinch them back according to their strength.
and then 3) in late summer prune back the years growth to 2-3 needles to promote back budding and create rammification, or do i pluck the needles?
And as an additional question what happens if i cut the branches that has bun clusters on down to 2-3 needles? Is that too late as it's last year growth? or will is it possible to push buds out on these branches as they still have needles on? So cutting approx by the red line below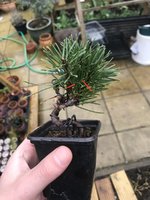 I hope some of you can help me in achieving my goal
Thank you!
Last edited: