Messages

2,073
Reaction score

4,335
Location
USDA Zone

11a
The story is I was never really convinced this Ume could stay the way it was when I got it.
Many of you helped me out with good suggestions last year, unfortunately airlayering it is out of question as it is almost impossible with Prunus.
So today I woke up decided to chop it down (it's winter here) after it bloomed like crazy for the past two weeks, and then, to my surprise, I see a plum! (or apricot, it's up to you to decide).
So I didn't chop it after all...
And thought to myself:
One way to make the first segment of the trunk (after the twist) less straight is by tilting it to the right in the next repot.
And maybe lower the whole tree down a little, as there is another almost straight segment up.
So the first question for you is if this seems a good path for this tree.
Second is if a jin looks very weird on a Prunus.
Third, what other suggestions might you give me to make it better looking?
Please follow the pictures below:
1- The flowers (last week)!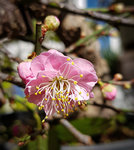 2- The fruit (today)!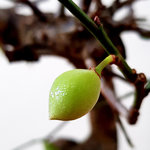 3- Original front one year ago, backside now:
4-) New front as today (winter here):
5- Proposed chop and new angle:
6-) A virtual of the final trunk line:
Thanks for your patience and help.