Messages

350
Reaction score

310
Location
USDA Zone

7a
Hi Everyone,
For those interested and/or need help/ideas...
After MANY YEARS of research, I FINALLY began my quasi Deep Winter Greenhouse build this year.
The Basics:
It's 16' x 12' not counting the 12" overhangs.
My goal is to grow food year round and possibly keep some tropical Bonsai trees, and I can use the space BEHIND the greenhouse to Over-Winter my Bonsai material.
I faced the structure 7 to 10 degrees East of True South, to optimize the Morning Winter Sun.
The base is built with Cedar 6" x 6" beams, mounted to TWELVE concrete filled 10" Sono-Tubes buried 40" into the ground.
The West, North, East and South (front) 4' Knee walls are 2" x 6" construction, while the large slanted portion is 2" x 4"to keep the shading down as much as possible.
The solid walls have 3/4" plywood sheathing, Tyvek House Wrap, and covered with 2" Rigid EPS insulation to block thermal-bridging, that will be topped off with 3/4" furring strips and a darker vinyl siding (siding samples are en-route).
Insulation:
I will be burying 4" x 24" x 96" EPS foam vertically around the perimeter, THEN adding a 4" x 48" x 96" EPS Swedish Skirt outside of that.
I'll most likely add 2" EPS inside, between the 2" x 6" roof beams, then seal the ceiling with reflective material.
The insulation will be sandwiched between 3/8" pea gravel about 1" to 2" thick, to aid in rain run-off.
Floor:
Will have 1/2" hardware cloth, to prevent critters (or Elvis) from entering the building. LOL...
Most likely going with pea gravel and some dark stepping-stones throughout (to absorb some additional Sun/heat).
Glazing:
I have a 100' x 52" roll of 5MM Solexx.
The South facing wall is pitched at a 60 degree angle from horizontal, to optimize the Winter Sun, based upon my Latitude.
Heating:
For thermal mass, I WAS going to line the back/North wall with 55 gallon barrels painted black and filled with water, but they're 24" in diameter, so I'm now leaning towards using clear fiberglass agricultural tubes filled with water dyed black. Those tubes come in space-saving 12" & 18" diameters, and in almost any length.
A back-up electric (HOPEFULLY Solar Electric) heater will also be employed.
Venting:
Thermostatically controlled exhaust fan high on the East wall, and two intake vents low on the West wall.
Growing:
Probably going with Cedar raised beds, just like I built in our backyard.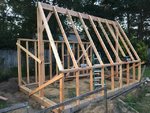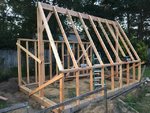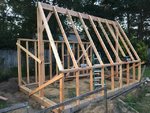 Last edited: