Messages

2
Reaction score

9
Location
USDA Zone

8B
Hi there : )
I have been browsing/lurking on this forum for a couple of weeks now picking up on all the great info. Also looking at all of your beautiful Bonsai! So many ideas to learn with for sure.
I had some Bonsai back when I was young and in high school. Probably for about 4 years and had a small collection of maybe 6 to 8 trees. Mostly maples, a elm and a juniper. I then ended up giving them away when I got into my late teens because I lost interest and didn't want to take care of them anymore (at least I gave them away to a good home for free though right?? : ) Also ended up moving around all over, being young and dumb, etc. so it probably was for the best.... I still wonder if they are out there somewhere : (
Anyways, fast forward many years and now settled in life (somewhat hahaha), I came across this little guy in Sacramento from a awesome little nursery! It brought back some memories when I saw it, almost like it was telling me it wanted to get out of the city and up into some nice foothills and nature where I live (silly, I know, but hey I admit it) The nice lady wrote on my receipt that its a Itoigawa Shimpaku. If someone thinks or sees different, please tell me, as I want to make sure I know what I have for proper care.
And this forum helped me brush up on my long lost limited Bonsai knowledge so I figured I would share and say thanks to the forum as a first post : ) It seems to have settled into the change in elevation and temperature nice...just looks more lively with better color over the past week (even some new shoots? This late?), so I think it likes it up here hopefully. Winters about to roll in with snow / rain and I seem to remember junipers can get some "bronzing" sometimes in the winter. So I wanted to share now before it possibly goes into more of a winter mode.
Its nothing super special or any work of art, but I like it : ) I see a bunch of ways it can/will improve, but that will have to wait for the spring. Only brought it inside for the picture, it lives outside ; ) Seems to like the 35 degree nights we have been getting...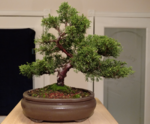 Thanks again for all the great info here and have a great night!