Messages

868
Reaction score

1,506
Location
USDA Zone

7a
i managed to finish a new winter home for my trees so i can eliminate the back and forth dance. thought id share photos and what i learned in case it helps someone else.
started with an 8ft privacy fence (that still allows me to fit one of my trucks/mowers etc into the back) and then moved fwd building an 8x9x24 structure to house all my trees that need protection.
my requirements were, had to be easy to maintain, able to be sealed and heated, easy watering without making a mess, able to be very open for airflow and temp control, high enough i wasnt hitting my head anymore, and had plenty of access to any spot i wanted (now im a hoss, but there are a couple of trees that are just about to big for me to move alone anymore so i wanted to be able to roll right up to a spot if i wanted to)
previously - the site was a natural area with rock so i started removing all rocks, stumps, plants in ground and pots etc - and started to build.
i wanted to go with a hoop style house, but for space/size/digging considerations i didnt.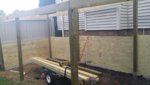 i also needed easy access and rollup methods so i could keep it airtight when needed and open the rest of the time. i went with a typical rollup side option. when rolled down, they are made airtight with use of a 2x4 inserted into the ends and held in place with clamps. i purchased an $8 trailer replacement handle and made a swivel - this allows the entire length to be rolled up and down easily. when up there is a chain/eyehook connection that holds it in place. its very quick and easy to rollup or down and there are no ropes in the way etc. i dont want to open the length of the structure just to walk in and check the heater, or move something around whatever - so i built a side door that is real easy to open, doesnt require sliding in or out (in case snow is on the ground). the door is 4+ foot wide so getting items in and out is easy if necessary , and is sealed by use of a 2x4 held in place with pushdown clamps. when clamps are pushed up, the 2x4 is removed and the plastic is floating free against a 2x2 strip - makes getting in/out and sealing the door real quick andeasy. thought i had a closeup of the ends of the long side, but all i see is this photo she took as i started moving trees in this weekend. if you look at the ends, you can see that there is recessed area that a 2x4 could slide into. basically i use two pieces of 2x4 and press into the plastic once it has been rolled down. this would damage the plastic, but i slightly downsized the 2x4 on a table saw so that it pulls the plastic taught, and makes the wall airtight - but doesnt damage the plastic. a little unconventional but works great. i can open/close the door and the sidewall in under 30 seconds. i used wiggle wire and track around the top of the structure with two rows of track on the rollup side. the side wall and roof act can be removed/replaced without impacting the other. (big pieces of plastic are hard to handle so i thought it might help to have them in two pieces. )
i went with a slant lean-to style frame thinking this would be better and easier - and it wasnt until it came time to wrap the structure that i realized i had a problem. i knew snow might be a challenge, but was willing to accept that i might have to go outside and clean the roof off to avoid the plastic on top from collapsing due to weight. we just dont get that much snow here so i was ok with that. turns out you cannot stretch the plastic enough to prevent sagging even just from the rain. i found that rain would collect and pool pretty bad, the greenhouse plastic is actually very strong but if it reacted that way from rain i was a little concerned in case of heavier winter precips. at this point i was pretty much committed to making the low pitch lean to roof style, so i had to make it work. the main reason i skimped on the number of rafters, is that 1) i wasnt building a roof, and 2) the location of the structure is very lean on sunlight. the whole goal of building this was to leave everything inside till the last threat of frost/ice has passed. move in once, move out once. for me that means they are in leaf around 4-5 weeks - so they need to be able to get enough light while still inside the structure.
moving them in and out every time wasnt an option for me. cause
i needed an option to add rafter supports to prevent any issues related to sagging (this doesnt have the pitch of a normal roof much less the steep arch of a hoop style greenhouse) now i had marked the rise and set of the sun, and the shade patterns over the last year or two so i have an idea about the when this side of the house starts getting sun and for how long. but i dont really know just how much light is gonna get INTO this thing unti this spring, so i felt like i needed as things creating shade inside and needed supports that could be added/removed easily. so i opted to build a railing on each side that would support 2x4 beams. this meant they could be added and removed as necessary - its not elegant, but its easy and works. if it turns out im worry over nothing and enough light comes in next spring - ill just leave up or permanently attach.
well crap - thats not the right photo and i cant find one - youll have to use your imagination. anyway - i was able to double the amount of supports and all it takes is lifting a 2x4 up and resting on each support. its quick and easy to put them up or down and there are no permanent changes.
by the way i know the sidewall looks all unlevel and crooked. it works, but i had a time getting there. i watched some youtube vids on greenhouse sidewalls and thought i had a pretty good idea what the process was. i used 3 10 foot sections of chain link fence top rails, screwed together with couplers. i started off not wanting to drill through plastic any more than i had to and thought i could get by with just a longer section of plastic to start rolling with, along with a few clamps. that didnt work so i wound up buying more 1.25 inch clamps off amazon. the problem was these fit the fence top rails a little too loosely once they were supporting the weight of the poles, and i could not get the rollup action to workk until i drilled through the clamps and the plastic forcing the clamps to stay in place . if you search amazon for this you can see what i used
HD White Snap Clamp 1-1/4 Inch X 4 Inches Wide for 1-1/4 Inch PVC
that worked for me, but after all the rollup attempts i got off level - so by the time i screwed through the clamps to attach them to the metal poles the plastic was a little lopsided. so it works great, but yeh - its not level and it bugs me everytime i look at it. i should get several years of life off the plastic, so ill live with it until it becomes time to replace.