Messages

181
Reaction score

430
Location
USDA Zone

2
So, I've been lurking the forum for a while now and figured I should finally make a post so, here goes something.
I had no idea growing trees in pots would become so addictive. This spring I started plucking little trees out of parking lots and off the side of the road. I quickly moved on to taking cuttings of everything I could. Air layering seemed like the next logical step so, I went all in on that too. I now have close to 150 trees potted in anything I could scrounge up that slightly resembled a pot. My spare time is spent wandering around the woods looking for trees to collect next spring.
I see no end in sight. This isn't going to stop. My only regret is I didn't start sooner.
Anyways, I guess it's sharing time so here are a few little trees I've collected.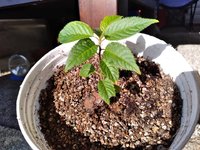 This Amur chokecherry was growing up against a curb and had been stumped.
This abused Alder was growing into the road and had been hit by more cars than I have (For the record I've only been hit by 1 car).
Another abused alder from the side of a logging road.
Scooped this guy off a sand bar on a camping trip.
Who knew little beat up birch trees liked to hang out around train tracks.
Don't try to airlayer trees near a homeless camp unless you like kindly asking hobos to stop tearing apart your airlayer.