Messages

2,155
Reaction score

2,176
Location
Hello,
These are some seeds I've grown this season. I actually grew a good few last year and they grew well till about this stage then all died. I did nothing.. then this year started and 4 have grown to this! From.. what I thought was dead. Quite amazed but I'd really love to keep them alive and going..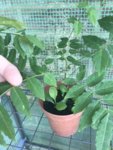 As you can see 1 or 2 are doing really well, other 2 are surviving..
i need to repost these ASAP to something bigger. Another, a 5th has been planted in the ground basically, few weeks ago and seem to be going ok, although it's hit by weather much more. These live in a sheltered greenhouse, with cover half off.
So yeh please do let me know what you think I should do next. Currently it's very hot and humid weather, and will be for a good few weeks. They are planted in standard soil.