Messages

67
Reaction score

28
Location
USDA Zone

6
Good morning! Picked this thuja up this weekend at the local bonsai show, wanted to share it with everybody. I cleaned it a bit yesterday and got quite a bit of dirt and wood bits out of lower section, there was enough junk in the deadwood that it looked like one solid piece. Is it worth applying lime sulfur to the deadwood, especially the darker spots? I worry that there is some rot going on...
The section of the tree circled in purple is completely separated from the rest of it, debating on keeping it or moving it to its own pot, or planting. Perhaps a stupid question: does leaving the purple section as part of the tree mean that there is not technically inverse taper?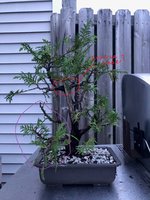 The bottom branches have some bad taper as well, not sure what to do about them yet. I did envision removing everything except the bottom right, the top could have some some interesting jin on both sides.
Anyway, sort of a weird little tree, looks like it will present some interesting challenges.