Messages

3,546
Reaction score

5,710
Location
USDA Zone

8A
Every year there's plant fair at a big park at the outskirts of the city, and each year, we display some of our bonsai there.
This year, the day started under a grey sky, it began to rain at 10:30. Went back home at 12, now it's cloudy with patches of sunny sky, and 20° C ! (60F !!!) and I'll go there again tomorrow afternoon, I'll probably take more photos then.
Here are a couple of pictures before it was opened to the public, 9-9:30: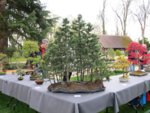 As you can see, we have some "young" members too (thirty-ish), and they are really involved into the club's life, a good omen for the future...