Messages

867
Reaction score

1,694
Location
I've been working on this concept for over a year. It is based directly on bridge designs. The supports in this one are comprised of two different parabolic curves somewhat like the Sydney harbor bridge. I've never seen any stand designed similarly.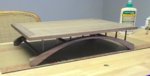 It's still being finished and I'll get final pics up when it's done. It has a fairly delicate appearance and I think a lighter, taller tree or group of trees, especially ones with a strongly triangular profile would look great with it. It's design lacks the inherent strength of an actual bridge because the ends of the arches don't buttress against anything, which in a bridge the forces would be transferred to through the parabolas, but it is still quite strong due to the triangulation with the top. I have a concept for a tall cascade stand using this concept with parabolas on all four sides I want to see made eventually.
Please feel free to comment.