Messages

3,669
Reaction score

4,833
USDA Zone

6ab
Last December when we went to Mountain Meadows Nursery in N.C. I picked up two projects.
This is one of the two, a 3 gallon Pinus strobis 'Niagara Falls'. Hardy to zone 3, and a dwarf at 1-6" growth/yr.
The unsightly aerial roots were just uncovered today when I got digging in, and are hidden on the back side.
There was a healthy amount of mycorrhiza throughout no matter how deep I went into the root structure.
No compaction, and I worked further into the roots after the picture was taken with me holding the base up...
​
...to the point that I had begun cutting into the base of the trunk just to get it into the pot I had.
I butchered the base of the trunk really.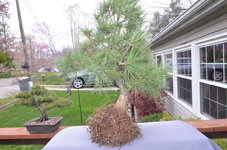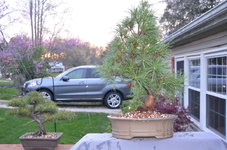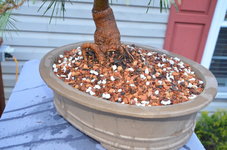 I hope it doesn't shed any branches, but if it just lives will be a feat of itself.
Fortunately the ugly aerial roots are on the chosen back side.
The pot is ~3.5" tall inside.