Messages

4,560
Reaction score

9,558
Location
USDA Zone

7b
As a thank you to everyone that has followed me on my journey from start to finish on my first batch of mame pots (Batch #1), I'm going to give away the mame pot and tomobako pictured below to a lucky winner. Your posts of encouragement, information, ideas, and positivity definitely helped me along the way.
The members that have either posted, liked, or replied on my thread……
Mame pots on a mini pottery wheel
…..between posts #1 thru #281 as of the posting of this thread will be entered into the drawing.
I will have my youngest daughter pull from a bowl the lucky winner on 13MAY21 (her birthday). I have already collected all the member names from page 1 thru 15 (members listed below). If you post, like, or reply after seeing this thread your name will not be added to the drawing.
If you are the lucky winner, all you have to do is PM me your address to ship to. I will ship the package to you regardless of your location.
You will be the first to own a PIT-EKA mame pot!
Again thank you all.
Pitoon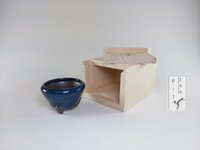 *BNut members that will be entered into the drawing:
@0soyoung
@62veedub
@ABCarve
@Arlithrien
@badatusernames
@Balbs
@Bavarian Raven
@Bonsaidoorguy
@BonsaiDTLA
@BonsaiJames1986
@Carol 83
@CasAH
@Deep Sea Diver
@DirkvanDreven
@Eckhoffw
@EricMack
@florencechan.ca
@Flowerhouse
@Forsoothe!
@Fred1991
@Gabler
@Grovic
@Gsteil
@Hartinez
@hemmy
@hinmo24t
@Iowa newbie
@jaco94
@Josh88
@LanceMac10
@Leo in N E Illinois
@Marlborough Handcraft
@Mayank
@Microscopic
@Moridin
@mwar15
@namnhi
@NaoTK
@Oleg
@penumbra
@petegreg
@Peter44
@plant_dr
@pnwnovice
@pweifan
@River's Edge
@rodeolthr
@Ruddigger
@shakotan710
@Sno
@sorce
@Starfox
@Tentakelaertje
@thams
@TinyArt
@TomB
@Trenthany
@Trueblackpercula
@Tycoss
@W3rk