Messages

113
Reaction score

148
Location
USDA Zone

7a
POM POM SAN JOSE JUNIPER PROJECT

​


Recently I managed to pick up a pom pom style San Jose Juniper from the clearance table at a big box home improvement store. I think it's going to be a fun project tree and will give me opportunity to work on some skills; air-layering, juniper care, long-term project planning, etc.

The tree as a whole seems reasonably healthy though it's fairly root bound and a lot of internal foliage died back from lack of light and inconsistent watering.

I forgot to take a picture of it before I thinned out the foliage. Sorry about that. If you're curious, it looked like this...




This is a painstaking virtual recreation of this tree as it appeared when I brought it home, I hope you all appreciate the effort that went into it.

There was no obvious, immediate path to shape this material into a bonsai. That was apparent before I bought it, but the attraction of the old bark on the thick base as well as on most of the main branches made it worth it.

Another interesting feature; is it a tree or is it the watcher in the water from "The Lord of the Rings?"




After some thinning and clean up it looks like this...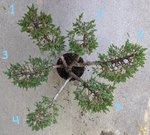 A pleasant discovery I made during clean up was that each of the six main branches has an existing secondary branch structure already suitable for bonsai and most branches have maturing bark and at least a small amount of movement in the trunk line. Air-layering these branches could mean up to six new bonsai.

Here are photos of each of the six possible trunks taken from the underside the tree...





Trunks 1 and 2 come off a protruding section of the base and could potentially make a nice twin-trunk if I can get that knob layered off effectively...





I am not experienced with air-layering and have only a little experience with raising junipers as bonsai so I thought I'd reach out for tips and advice as well as any other thoughts members of the community might have on the project as a whole.

AIR-LAYERING
Any particular recommendations on a the best method for air-layering San Jose Juniper? I've know people use various growing mediums for layering; sphagnum (chopped?), regular bonsai soil, Napa 8822, gummy bears, stray cats, neighbor's children, etc. Any experience-based recommendations? Also, how many of these branches can I safely layer at once?

HOW TO USE THE BASE
Besides just air-layering branches, I'd also love to be able to do something with that big barky base. Any chance I'll get new growth from the base that can make it suitable for a bonsai project? What's the best approach to encourage back-budding on the base (as well as lower on the branches)? How will that effort affect timing of air-layering? Any other ideas on how to use the base?

Any thoughts or comments are welcome.