Messages

74
Reaction score

72
Location
USDA Zone

5b
EDIT: Incidentally, on your styling dilemma: You were originally attracted to the base so I'd think about retaining that. Post 6 is a nice image that makes me wonder about a slanting twin-trunk design, using the two trunks that go off to the right in that picture. The trunks would be tall, with most of the foliage closer to the top, like a mature conifer. Other trunks would be removed and thrown away (air layering just wastes a year unless you see trees you actually want in the sections to be removed), with the remnants carved into small, subtle, deadwood features at a future date. Caveat is that I've not studied your tree, and to be honest nobody can really give good advice without the tree there in front of them. This is just going on my general impression.
You got me thinking about a slanting twin trunk. No way you could see it in the photos, but for that the best angle might be from the other side - trunks 6 and 2 rather than 6 and 5
Here's a larger version of 6 and 5 slanting right...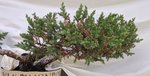 And here's 6 and 2 slanting left...
That's a possibility I'll definitely look at more carefully before chopping anything. The challenge is trunk 6 has minimal movement or character from this angle.
I appreciate you taking the time to comment.
Steve