Messages

11,514
Reaction score

19,461
Location
USDA Zone

9
I began purchasing pots for the exposed root elm semi cascade trees I am growing. They will be ready for pots in a few years and having them early allows me to work towards the image I wish for the pot.
These are the six I procured at the Seminar. Two of the pots were generously given to me by Peter Macaseib (Maria Kapra). I was able to get the low down on the use of the user name "Maria Kapra". It seems that when Peter was in the Philippines he saw this band alot there playing in night clubs as well as Arnel Pinada of the Zoo, who would later move on to front the American band Journey. When it became time to use a username for BonsaiNut, Maria Kapra was the name he used. Easy peasy.
The two pots I recieved from Peter. Thanks so much Peter I will put them to good use. All of these pots are about 3 inches in diameter and about 2 to 3 inches tall. The first one from Peter is about 5 inches across and about 1 inch deep. Probably use it for a maple or similar.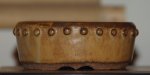 This one is a Kouso. Wife of Koyo
Sara Raynor
Chinese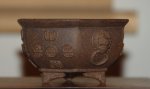 Some cat from back East named Sonny Boggs.