Messages

1,362
Reaction score

4,371
Location
USDA Zone

9a
April 2012
Seedlings collected in Portland, OR
June 2014
Potted in pumice, perlite, and composted bark.
July 2014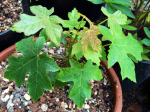 March 2015
The tree received osmocote, humic acid, and granulated azomite.
January 2016
I repotted this tree into a 7-gallon grow bag with diatomaceous gravel and pumice. For aesthetic purposes I trimmed away some smaller surface roots that were crossing over other roots I inoculated the roots with endo mycorrhizae and gave it Osmocote 14-14-14.
Updates will come as relevant. I'm planning to grow this into a clump style.
Last edited: