Messages

1,120
Reaction score

1,278
Location
USDA Zone

7a
This black oak - I think it's a black oak... the leaves seem to have pointy ends and do not look like the white oak immature leaves at all - was growing along the fence line in my yard. I liked the shape of the trunk with the small kink in it and felt it would be a nice tree to work on. It had healthy buds on it as well. The below picture was from late in the winter.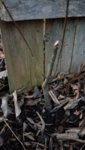 ​
Collected from Backyard this March as tree was budding out. Not sure where I will go with it design wise. Right now I just want to see it grow through the summer and maybe make some style and structural decisions during the fall. The roots were not in too bad of shape. I cut the tap root and was able to retain quite a few lateral roots up the stem. Another couple of repots should get the root structure put together well. It is currently leafing out and looks healthy. It was potted in 100% 8822 DE with a top dressing of sphagnum for water retention.
​
Any potential styling advice or care advice is welcome. I know oaks are finicky. My first styling change will be to remove the strong central leader that truncates down to the first budding branch. I don't like the way the top part of the old main leader crosses in front of the left branch in the back. I am also hoping that a new branch will appear at the lower portion of the tree in the future. I think the angle has to be adjusted too but not sure exactly to what. I haven't fertilized at all yet so that may be done soon.
Last edited by a moderator: