Messages

182
Reaction score

224
This is a yew I collected from a hedge row about 3 years ago, and this year I decided to do some work on it... this one had much of its foliage strength on one side, so I decided to use the weaker side for dead wood features.
This is the tree before starting...
I cleaned up the bark a bit, and roughed in some of the dead wood...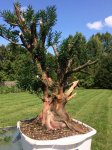 Next, I removed some of the taller branches, leaving some in case they could be used as deadwood features later, and put some wire on a few of the branches...
A closer image of the base...looks a little 'Jabba the Hut'-ish...
And a rough virt of the potential future...
I welcome thoughts!