As the name suggests, this thread is about some new/little known cultivars of evergreen species which show better potential to be trained as bonsai than better known ones. A common issue is leaf size, but I've recently acquired some with particularly small leaves. Obviously, these might be seen as 300-year-projects or a waste of time, but I like the idea of experimenting with less exploited plants and possibly record one day the first instance of their successful use as bonsai. Why not dream?
This one is a
Photinia x fraseri
marketed as
'Chico'
here in the UK. Also known as 'Br2011'. It's of fairly recent development and decidedly smaller than the well known 'Little Red Robin', with nice small foliage as you can see in the photo. It's supposed to grow fairly compact and not exceed 1m/3ft as a landscape or potted plant, but it's still so uncommon here I have yet to see any around. The usual vigour of photinias is definitely reduced, so thickening of the trunk will be slow, but it buckbuds profusely as the larger relatives, and, knowing photinias' beahviour, I think it has potential for nice ramification (which I won't have to worry about for the next couple of...decades? ahah..). Having the tree flower and even fruit and one point would be a great bonus.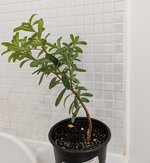 Excuse the bathtub-side picture, but at least the small tiles might give you a sense of scale for the leaves on this
Daphne x transatlantica 'Eternal Fragrance'
, or 'Blafra', a newish hybrid cultivar with a long flowering season and compact size of under 1m/3ft. It only transited through my bathroom before I took it to my plot. It's marketed as hardy to -15°C, so I want to see how many of the older leaves will be retained throughout winter, and so far they are all still on after a frost of about -9°C. Daphne species don't seem to be commonly used as bonsai, but they budback and generally thicken reasonably quickly in pots. This new cultivar also has very short internodes, a general habit more lending to bonsai than others and an overall look which is quite similar to that of an azalea. The pot in the picture is the same size as in the picture above.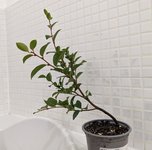 Still with bathroom mosaic-sized tiles for scale, this is
Camellia 'Fairy Blush'
, not your usual sasanqua. Raised from seed in the late 80's in New Zealand by Mark Jury, it has very small leaves and tiny, beautiful single flowers. It's considered to be an hybrid of C. lutchuensis and C. pitardii; as per a trend started in the 60's, C. lutchuensis was often used for crossing to introduce scent into new cultivars. I have removed all flower buds when I separated the several small plants that came together in one pot, they were fully formed and ridiculously small for a camellia, beautifully proportioned to the small foliage. All pots pictured are the same size again, as above.
I'd like to see others if anybody has something for this thread
Last edited: