Messages

411
Reaction score

974
Location
The first picture I have of this plant has the date January 2015. I think I got it in summer 2014 or earliest Jan/Feb 2014.
It started out as a 5'-6' background plant in a friend's small side garden. He hacked back a group of them and didn't like where this was situated so pulled it out. He called asking if I wanted it and brought it over in the beige plastic pot.
It had three straight trunks and I had no idea what to do. It seemed a bit lob-sided as it grew next to a wooden fence so I reckoned leaning it over seemed right.
I planted it the following spring at the angle I thought was best and used styrofoam to keep the 40% of the root ball sticking skyward alive and feeding the plant. This plant is native to Taiwan so actually tough as nails here. I did not know this at the time and thought I was getting into some exotic tree here. Over the next few months I slowly exposed more and more roots. They were growing down well.
Over the next three years it was allowed to grow out and then I would chop it back. Grow chop, grow chop.....repeat. It grows pretty damn quickly.
This year I decided it was time for a better looking pot. Now, I know the pot is way to big but I will scale it down once I am happier with the design or foliage pads. I was not sure about this plant starting out but now I really like this species and may add one or two more as they look great with care and pruning. The new growth is shaped easily enough but wooded growth is quite brittle and I have lost more than a few branches.
The spring it was slanted in the pot it came in and better soil was added. It was basically, and happily, growing in clay.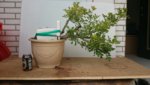 After the repot this year and some good growth.
After a haircut. It will be left to develop a bit more and then trimmed at least once more this year.
I left the flower stalks because I can. I'll remove them after the blooms are done.
And of course, Harry for size.