I am not sure if I have shared this progression here or not.
I bought this Rocky Mountain Juniper in 2018.
August 2018
I cleaned it up and took it to a workshop with Naoki Maeoka the same year. We discussed the angle and direction of the future tree. I wired a cut a few things off and wired a pad during the workshop.
August 2018
There was a branch I was supposed to bend down and around to the front. So I did that after the workshop when I got home. I needed a piece of rebar for the bend. This next image is a point during the bending process.
August 2018
I let it go over the winter. The branch I bent ended up dead by spring. My guess is that I bent it too late in the season and it froze and died. You can see the color difference in this next photo. It is a couple of shades off.
April 2019
I let the tree grow until mid to late July before I started to cut things back and wire the tree fully. These next images from July are trying to show the growth extensions.
July 2019
July 2019
September of this year I had the opportunity to take a workshop with Tyler Sherrod. Not quite a before workshop photo, but pretty close.
September 2019
I am glad I took the time to wire most of this tree out though. He worked some pretty good magic with the wire I had on the tree already.
September 2019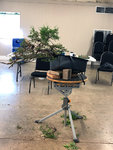 September 2019
September 2019
Tyler is a great guy. If you ever get a chance to work with him, I highly recommend it.
If you want to follow along with this tree in further detail, you can follow along on my website. I will still update this posting as I go.
Thanks for looking.